Each snowfall contest must have at least seven entries to be a valid.
The scoring system for the 'snow storm' season is designed to determine objectively
which forecast had the best overall synoptic quality. An accurate ... high-quality ...
synoptic-scale snowfall forecast is defined as one capturing the magnitude
and distribution of the storm/s total snowfall.

Forecast quality is evaluated by calculating its 'goodness of fit' between all forecast
and observed snowfall amounts.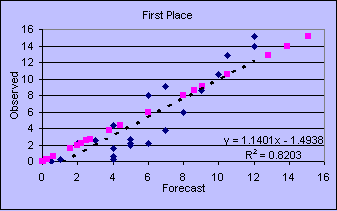 The scatter plot/s black diamonds show the forecast snowfall (x-axis) plotted
against the observed snowfall (y-axis). The dashed line represents the
forecast/s 'goodness of fit.' The magenta points represent a perfect forecast ...
where each station forecast matched each station observation.
The 0.82 RČ value indicates the forecaster accounted for 82% of the variability
in the observed snowfall amounts. A 'perfect' forecast would have an RČ value of 1 ...
meaning 100% of the observed snowfall/s variability was accounted for (explained)
by the forecast.
---
The forecast error statistic is the Sum of Squared Errors (SUMSQ).

The arithmetic difference between the Forecast and Observed snowfall at each
station is squared and the squared errors for all stations are summed. This measure
of skill rewards (penalizes) station forecasts with small (large) errors.

The smaller the SUMSQ ... the better the synoptic-scale forecast.

If the absolute difference between your
Forecast snowfall and the Observed snowfall is:
one (1) inch = one (1) error point
two (2) inches = four (4) error points
three (3) inches = nine (9) error points
---
Each forecaster/s SUMSQ Error score is normalized to a Z-Score for use in
calculating Interim and End-of-Season standings.

Forecasts with normalized Z-scores greater than or equal to 2.5 standard
deviations above the mean are statistical outliers and

may

be excluded from the final
Z-Score calculation.


---
If Snow is Observed and Snow is Not Forecast...
then the Forecaster/s Snowfall Amount is set to '0' for that station.

If Snow is Forecast and Snow is Not Observed...
then the Observed Snowfall Amount is set to '0' for that station.

If Snow is not Forecast and Snow is Not Observed...
then the Forecaster is not scored for that station.
---
Other reported forecast statistics ... such as average absolute error (AAE) ...
total absolute error (TAE) ... total snowfall error (STP) ... RČ (coefficient of determination)
... skill scores ... and 'batting averages' are 'measures of forecaster skill' but do not factor
into forecast rankings.